Purpose
The purpose of the National Awards Program is to recognize outstanding achievement or service for Hispanics within the FAA.
Nomination Period
The nomination period is January 1st through May 1st. Postmark by May 1 assures acceptance. No exceptions or extensions will be made beyond May 1. Download the National Award Nomination Form here.
Categories and Qualifications
1. Member of the Year
Any member who has demonstrated leadership capabilities, furthered the goals of the Coalition, and supported Region/Center Chapter activities.
2. Officer of the Year
Any Executive Committee officer who has demonstrated service beyond the normal responsibilities. (Note: This award is conferred by the President; nominations are not accepted.)
3. Region/Center Chapter of the Year
Any Region/Center Chapter that has furthered the goals of the Coalition by:
– Maintaining open communications among the members
– Recruiting/maintaining members
– Sponsoring chapter activities
– Furthering aviation awareness
– Participating in national Coalition programs
– Promoting awareness of Hispanics, females, and other minorities.
4. Non-member of the Year
Any person who has demonstrated commitment to the goals and objective of the Coalition.
5. Executive of the Year
Any Executive who has furthered the goals of the Coalition, and supported Region/Center Chapter activities.
6. FAA Manager of the Year
Any FAA manager who has encouraged and supported participation in Hispanic programs.
7. Thank you Award
Any individual who has gone above and beyond in support of the mission and vision of the NHCFAE
Nomination Procedures
1. Any member in good standing may submit a nomination(s).
2. The nomination form and supporting documentation shall be submitted in writing. The form should be completely filled; incomplete forms will not be processed.
All nominations should be e-mail to vp@nhcfae.org postmarked May 1.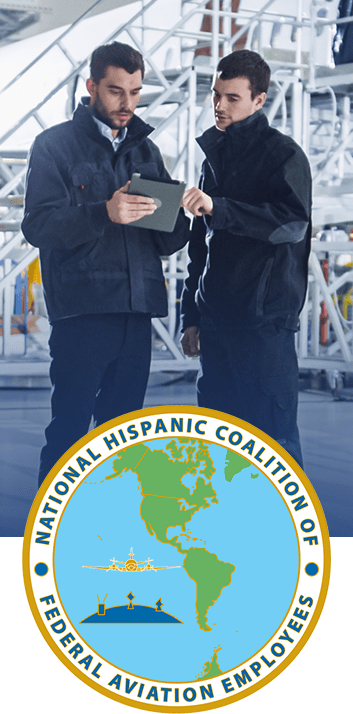 NOT A MEMBER?
Join now to receive exclusive membership benefits and updates